Ring of Dishonor - Tom Olivadotti

Tom Olivadotti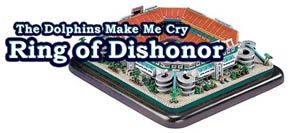 Induction Date: September 7, 2003
When the Miami Dolphins began the Ring of Honor in 1990, they knew the first person inducted would hold a unique place in Dolphins' history. It was important to honor someone who's contribution to the organization was very special. Of course the Dolphins chose Joe Robbie, the founding father of the franchise.
Today, we start a new chapter in Dolphins' history, as we unveil our first member in the Ring of Dishonor. Just like Joe Robbie, the first inductee into the Ring of Dishonor will need to be someone who's contribution exceeds all others. His impact on the franchise can't be measured in plays, games or even a season. We needed to find someone who's measurable ineptitude crippled the organization for years...
Introducing our first inductee to the Ring of Dishonor: Tom Olivadotti.
Olivadotti joined the Dolphins as the Defensive Coordinator in 1987. For the next nine years, the team was christened the "Olfans", because they had no "D". For 7 years of his 9 year tenure, Olivadotti led a defense that was ranked in the bottom half of the NFL. What makes this even more painful is the knowledge that these years coincided with Marino's prime. The Dolphins consistently put up big numbers. Unfortunately, so did every team they played. It's nauseating to think of how far the Dolphins might have been able to go with even an average defense.
Ironically, Olivadotti's best season statistically was also his last. Jimmy Johnson fired Olivadotti after a humiliating 37 - 22 defeat to the Buffalo Bills in the playoffs. More significant than the big points total, was the AFC record 341 yards that Buffalo gained on the ground. What made this a particularly unacceptable beating was the fact that Miami had lost to this same Bills team only 2 weeks earlier when the Bills totaled over 200 yards rushing. Olivadotti's game plan was not adjusted in the slightest.
An especially fitting tribute to Olivadotti was written by a jubilant Bills fan shortly after the 1995 playoff game:
".....we have to thank everyone's favorite defensive coordinator, Tom Olivadotti. Lets give it up for the bonehead that couldn't figure out why the Bills were running all over the Dolphins."
For nine long years of mediocrity, we are exuberant to induct Tom Olivadotti as our first member to the Ring of Dishonor.