Ring of Dishonor - Ray Lucas

Ray Lucas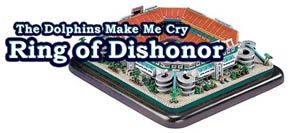 Induction Date: September 12, 2005
Since Marino's retirement after the 1999 season, mediocre QB play had haunted the Miami Dolphins. In 2002, a hungry young player waited in the wings for his chance to bring back glory to the position. Though he humbled himself through the media, proclaiming himself as the team's backup, his confidence and swagger were undeniable. Dolphins fans ate it up, wishing to see him get his opportunity. There's an old saying: "Be careful what you wish for; you just might get it." And we did. Introducing our 4th member to the TDMMC Ring of Dishonor, Ray Lucas.
Lucas didn't get his opportunity due to the poor play of the team's starter, Jay Fielder. In a odd twist of fate, Lucas' number was instead called after one of Jay's gutsiest performances as a Dolphin, where he brought the team from behind in a last second victory against the Broncos. But that victory came at a cost: a broken thumb on Fiedler's throwing hand.
Lucas had shown poise and potential in 4 years as a backup with the Jets under Bill Parcels, and had one year under his belt, learning Miami's system. Fans thought that, unlike Fiedler, Lucas would be able to be more than just a game manager. ...that he could win games, where Fiedler could simply not lose them. Lucas took a 5 - 1 record and two game lead in the AFC East to Buffalo to face a struggling Bills team, ranked 25th in defense and giving up an average of 35 points per game. ...and what unfurled was worse than any Dolphins fan could have ever imagined.
Against a backdrop of almost guaranteed success, Lucas took less than one quarter to show his true colors, turning in the single worst QB performance in Dolphins history. Lucas was responsible for 6 turnovers: 4 interceptions and 2 fumbles. He completed only 13 passes to Dolphin receivers. His leading receiver was Nate Clements, with 3 catches. Unfortunately, Nate played for the Bills.
Lucas started a total of 6 games for Miami, going 2 - 4. In each of the losses, Lucas was the reason. Despite a dominating defense, Lucas found ways to lose. He fumbled 8 times (losing 4) and threw 6 interceptions. His QB rating was an ugly 69.
Just how bad was Lucas? One announcer asked after the Buffalo game:
"Do you think Fiedler can throw with his left hand?"
That season, Dolphins fans learned an important lesson concerning the value of a viable backup quarterback. In 6 short weeks, Lucas took a front runner with Super Bowl hopes and turned them into a middle of the pack team. Jay Fielder returned to get off a couple of quick wins, but faded down the stretch and missed the playoffs by one game, losing in overtime at New England to close out the season. Lucas was cut that off-season.
For reminding us that a chain is only as strong as its weakest link, we enshrine Ray Lucas to The Dolphins Make Me Cry's Ring of Dishonor.