Ring of Dishonor - Sammie Smith

Sammie Smith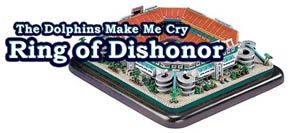 Induction Date: December 15, 2003
Our second selection for the Ring of Dishonor will surprise no one. Despite being out of football for over a decade, the memories of his miscues seem to be fresh in the minds of many Dolphin fans. Mention his name, and watch the reaction. There is still a lot of emotion...anger, bordering on hatred. Of course, the man in question is Sammy Smith.
Drafted with the 9th pick overall in the 1st round, a running back out of Florida State raised Dolphins fans' hopes that a rushing attack would finally be brought to the Miami offense. It was not to be. Sammie Smith played 3 undistinguished years in Miami. In those 3 seasons, he never gained a thousand yards, never averaged more than 3.7 yards per carry, and never had more touchdowns than fumbles. Judging by statistics alone, Smith was not considerably worse than many other Miami running backs. Lamar Smith, J.J. Johnson, Kareem Abdul Jabbar, and Andre Franklin all had seasons where they averaged less yards per carry than Smith's low of 3.3 in 1989. Other Miami backs have fumbled more often, including Ricky Williams. What separates Smith from the rest of the group was his uncanny ability to fumble at the most inopportune times.
Smith's career is defined by one play. Without it, he might just be one more 1st round draft bust, instead of being a pariah to Dolphin fans. In a game against the Houston Oilers in 1991, the Dolphins were trailing late in the 4th quarter. Marino drove the team to the goal line. With time running out, Smith took the hand-off, went over the top and fumbled the ball away. Houston recovered and held on to win 17 - 13. It was a carbon copy of a play from the previous week, where Smith fumbled into the end zone against the Chiefs. That one was run back for a touchdown. The back to back fumbles were labeled the "Double Whammy on Sammie". Fans had seen enough of Sammie Smith and what followed was one of the ugliest scenes in professional sports. The entire stadium erupted in chants of "Sammie Sucks". Smith needed a police escort from the stadium. ...his own stadium. He said after the game that he doubted he could play for the Dolphins anymore. He was right.
Smith would be traded to Denver, where he would play a total of 3 games before being released. With no other teams interested, Smith slipped out of football and the public spotlight, at least for a while. Like so many retired athletes, Sammie wanted to give something back to the community. By "give", we mean "sell" and by "something", we mean "drugs". In 1995, Sammie was convicted of selling 12 ounces of crack, while in possession of 37.4 pounds of cocaine. He was invited to spend the next 7 years as a guest of the federal prison system.
For both his playing ability and his community service, we are pleased to induct Sammie Smith into The Dolphins Make Me Cry - Ring of Dishonor.