Ring of Dishonor - Yatil Green
Yatil Green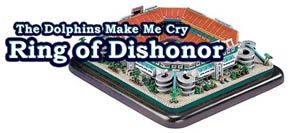 Induction Date: July 2, 2004
Our third inductee to the Ring of Dishonor is likely to be a controversial one. He doesn't suffer from the outright incompetence that characterize previous inductees. He has no "character issues" that are so common in today's NFL. In fact, our latest inductee has been a model citizen - before, during and even after his NFL career. But life can be cruel, and so can the selection process for the Ring of Dishonor. Introducing the 3rd member of the Ring - Yatil Green, whose 3 injury plagued years in Miami derailed a WR corps that has yet to recover.
Yatil came to the Dolphins as the first-round draft choice in 1997 out of the University of Miami (Fla.), with the highest pick that Miami had had in several years. With a string of 1st round draft busts (John Bosa, Eric Kumerow, Sammie Smith, Billy Milner), the front office was looking for a sure thing. At the NFL scouting combine, Green had scouts and coaches salivating over his size and speed. Green was the lone top receiver to run at the combine, showing no fear of a poor running surface. Here's what the scouts were saying:
Tremendous Athlete with Great Size
Runs a 4.3/40 with a 35.5 inch Vertical Jump
Speed and Agility make him Dangerous After the Catch
Green looked to be a perfect fit for the Fins, and the weapon that would finally help Marino take the Dolphins back to the Super Bowl. Green even signed early so that he could get into camp and start practicing right away. Expectations among Dolphin fans were sky high, but sadly, Green never played a down in 1997. On the first day of training camp, he suffered a devastating injury, tearing his quadriceps muscles, anterior cruciate ligament (ACL) and cartilage in his right knee. Before it had even started, it looked like Green's NFL career was over. ...and as bad as that sounds, what happened instead was far worse.
Yatil refused to go down without a fight. He began an aggressive rehabilitation program, and it wasn't long before there were rumors coming out of Miami about Green being ahead of schedule. Miami had to make a tough decision: stick with Green in hopes that he could fully recover, or draft another WR. Miami gambled on Green, passing up the chance to grab Randy Moss. At first it looked like the gamble would pay off. By the start of camp, Green was looking good, showing that he hadn't lost much of his speed. He wasn't 100 percent yet, but with several months to go before the team hit the field, the staff was confident that Yatil Green would finally line up in the aqua and orange.
Unfortunately, disaster struck again. While running a pass route in non-contact drills, Green tore his ACL in his right knee for the 3rd time, leaving the Dolphins with a WR corps anchored by OJ McDuffie and Charles Jordan. Miami signed Willie Green, an unrestricted free agent from the Broncos to fill the number 3 spot. It was hardly adequate.
For 2 years, Miami had been forced to patch together a receiving corps. Certainly, 1999's draft would be different. Conventional wisdom stated that Miami address their wide receiver needs early, despite having traded away their first round pick. Never one to follow conventional wisdom, Jimmy Johnson surprised everyone by not drafting a single wideout, leaving the door open for Green one more time. On opening day in 1999, Yatil Green made his debut against the Denver Broncos. After 3 years of waiting, watching, and rehabilitating, the Dolphins were rewarded with 1 catch for 6 yards. Green made appearances in 7 more games that year, never as a starter. He ended the season with 18 catches and 0 TDs. Unbelievably, Green averaged a shocking 1.25 surgeries per NFL game played.

There was no story book ending for Green; he never played another down.
Whether it was his fault or not, Green's negative impact on the franchise is undeniable. Miami gave up a first round draft choice and got nothing in return. Green's contract and signing bonus cost the Dolphins millions and forced the contracts of Richmond Webb, Trace Armstrong and Tim Bowens to be renegotiated. And most importantly, his continued presence on the roster kept the front office and coaching staff from aggressively addressing the holes at wide receiver, a situation from which the organization has yet to recover.
Dave Wannstedt said it best, as he made the following declaration, shortly after cutting Green at the end of the 1999 season:
"These decisions are very difficult, but especially this one because of the kind of person that Yatil is."
Based on his long term cost to the franchise, we reluctantly welcome Yatil Green to TDMMC's Ring of Dishonor.